Webinar L-Systems and Epicor
L-Systems is pleased to invite you to a remote Webinar held jointly by L-Systems and Epicor, which will take place on October 26 at 11am. Sitting comfortably in front of the computer screen you will be able to take part without having to travel.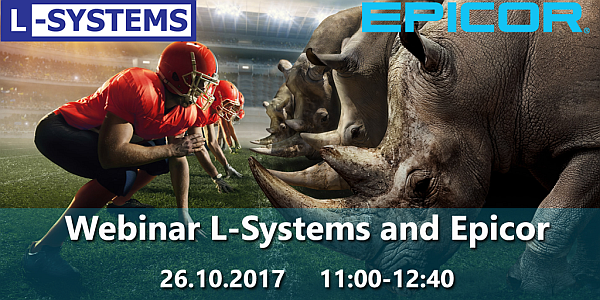 At the meeting, we will provide you with information about Epicor's business plans and will present several solutions dedicated to iScala, for various departments of the company:
For the financial department – latest information on JPK,

For purchasing and sales – tools to increase the efficiency of daily work with iScala system,

For the production department – a solution for supporting production planning and reporting processes.
Due to the variety of subjects, we encourage people from different departments of the company.
The webinar will take less than 2 hours and the detailed agenda you will find below:
11:00 – 11:05 Welcome the participants, presentation of the agenda
11:05 – 11:20 Epicor development strategy in the world, in Europe, in Poland
11:20 – 11:35 Range of L-Systems dedicated services and solutions for iScala
11:35 – 11:50 New shopping management dimension in iScala – an extended shopping desktop
11:50 – 12:05 New sales management dimension in iScala – extended sales desk
12:05 – 12:20 Effectively planning and reporting production in iScala with L-Systems MES
12:20 – 12:35 What's next with JPK ?
12:35 – 12:40 Summary and conclusion 
At the end of the Webinar, we will ask for information about your Epicor product functionality and solutions integrated with them which could be of interest to you, that we could bring to your next Webinar. We would like these sessions to be an opportunity for you to gain insight into iScala functionality and solutions which are added value to your ERP system.
To participate in the Webinar, please confirm your participation by email to adam.gebski@L-Systems.pl