GET READY TO THE FUTURE WITH COMPLETE ENTERPISE
SOLUTION FOR BUSINESS
WE ADVISE ERP SYSTEMS IN ACCORDANCE WITH BUSINESS TYPE AND CUSTOMER INDIVIDUALITY!
We propose solutions from leading ERP system vendors worldwide. We treat each client individually, first recognizing his needs, then offering a system that best meets the requirements of his business, while taking into account his uniqueness and budget planned for the ERP system implementation project.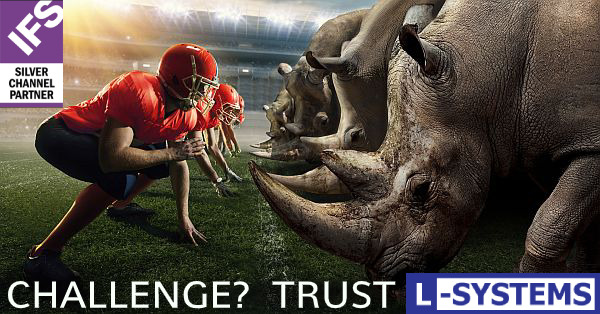 ERP SYSTEM - ENTERPISE IT SOLUTIONS - SERVICES AND IMPLEMENTATIONS | L-SYSTEMS.PL
We specialize in providing services related to the implementation of IT solutions. As part of ongoing projects, we implement solutions from leading global ERP system vendors , such as IFS Applications, Epicor, iScala, as well as BI systems, such as QlikView or QlikSense. Many years of experience of our consultants allow us to create solutions inspired by Your business. We combine the best in business and science in delivered IT solutions. We also implement innovative educational projects.
AVERAGE YEARS OF OUR CONSULTANTS' EXPERIENCE
NUMBER OF COMPLETED PROJECTS
CURRENTLY SUPPORTED CUSTOMERS
We are the authorized partner of: IFS, Epicor, JDA, Qlik and ILiM.
The company L-Systems has been awarded the certificates of Dynamic Company, Business Cheetah 2018, Trustworthy Company 2019, and Trustworthy Company GOLD 2019.
The Mission of L-Systems Company is supplying and implement complete business intelligent IT environment, to reach this we establish strategic partnerships with the leaders on the market , develop of our own software systems and work out on innovative dedicated solutions based on our customers' experience and scientific research. We want to achieve those by assure our business partners and workers that their ideas and initiatives meet our respect as well as operating actively together to create actions for our Company.
….closer to science, closer to business
- that is because our offer comes from business understanding - that is because science has to be closer to business - that is because we make science and business to be closer each other