L-Systems Company a silver partner of IFS
We are pleased to announce that L-Systems Company has become a partner of the Corporation IFS of IFS status Silver Channel Partner.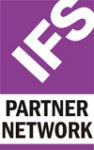 Partnership with IFS will allow L-Systems Company to supply with solutions in industries in which so far we were not present.
We are convinced that our experience in the implementation of projects for production companies in connection with the flexibility of the functional application will help to create an interesting offer, among others, for smaller business enterprise companies.